Regular price
$270.00
Sale price
$165.00
Unit price
per
Sale
Sold out
Please Note: This is now a PRE-ORDER
Our next shipment is almost here and will be ready by the 20th of December. Your pre-order will be couriered out on the morning of the 20th of December.
Are you looking for a powerful and effective way to improve your mood, energy levels, and recovery?
This Portable Ice Bath with a thermal lid and cover is here to revolutionise your cold water therapy experience.
Designed with expert craftsmanship and
convenience in mind, this ice bath offers a wide range of features and benefits that will take your health to the next level.
The Portable Ice Bath includes:
Ice bath 80cm x 80cm 
Water outlet tap
75cm long drain pipe
6 poles
Hand pump
Water cushion
Repair patch
Carry bag
User manual
FREE Bonuses:
😎  Thermal Lid ($35)
🙌  Protective Ice Bath Tub Cover ($27)
🤝  1-Year Replacement Warranty ($20)       
🤩  Access to our Breathwork Library
🥝  Locally owned and operated in NZ
View full details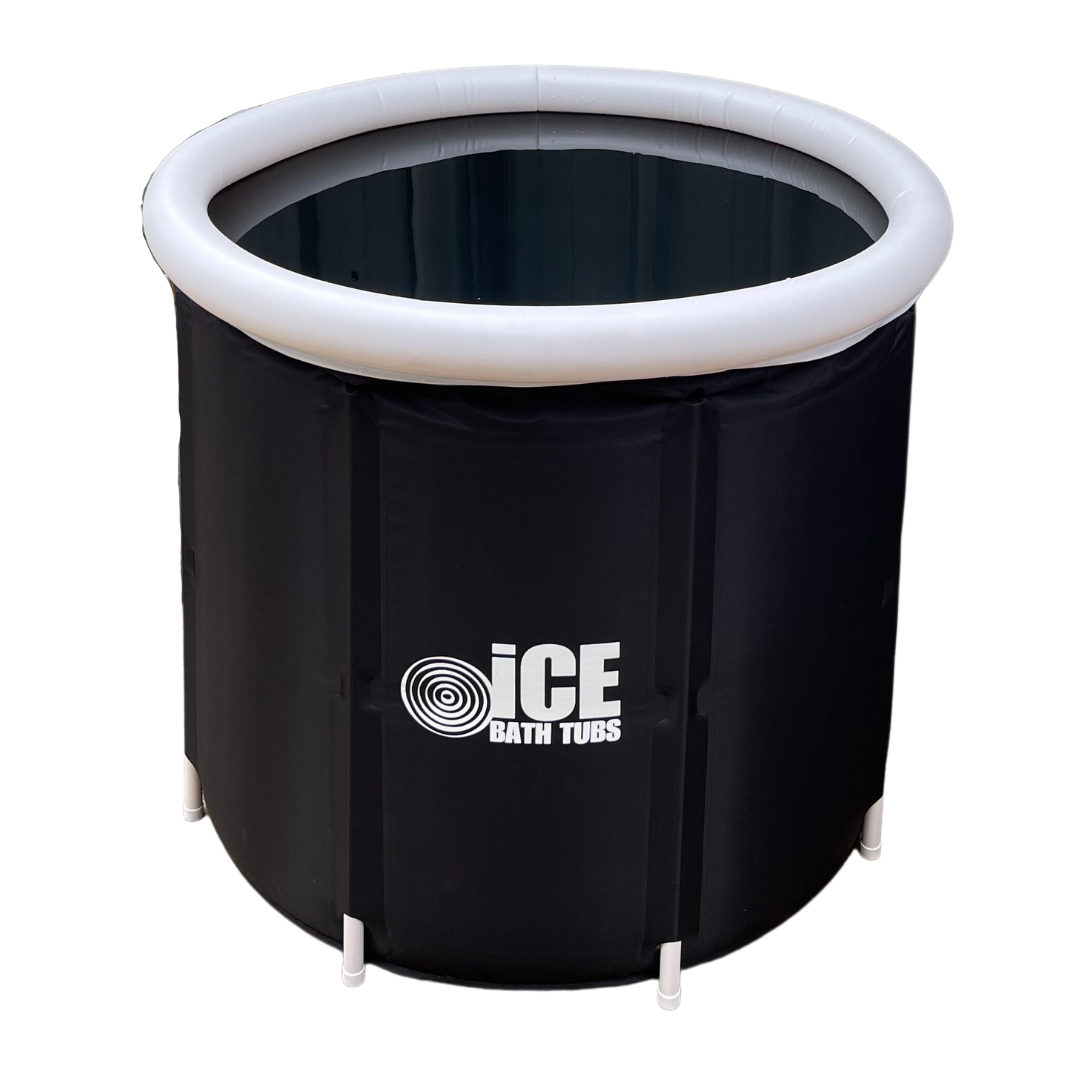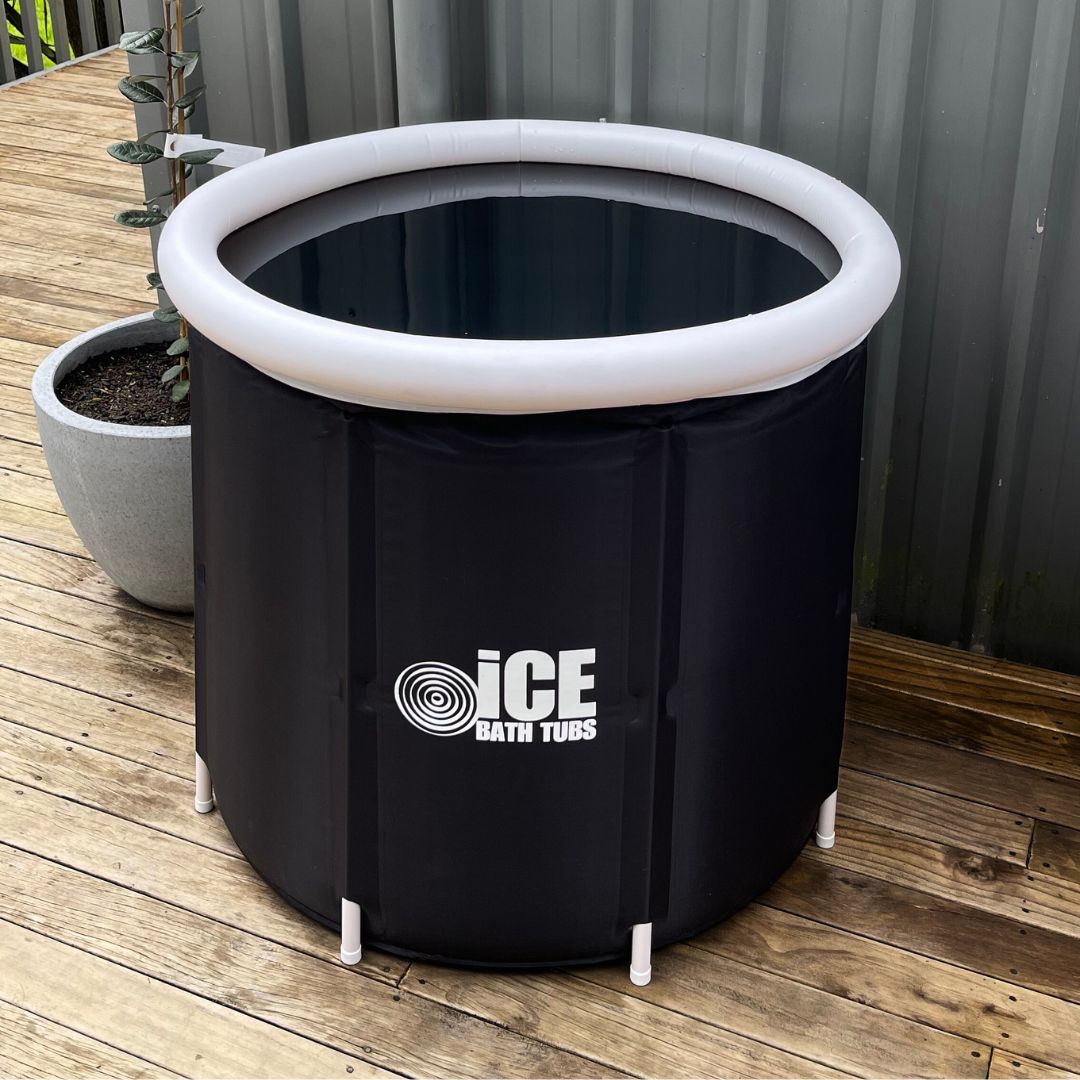 High-Quality Craftsmanship
We pride ourselves on delivering exceptional quality. This Ice Bath is crafted using premium materials to ensure durability, longevity, and optimal performance. The sturdy construction of 5-layer thermo insulated materials guarantees a reliable leak-proof and safe cold therapy experience every time.
Easy Drainage System
Draining and cleaning your ice bath is a breeze. The built-in drainage system with an extendable 75cm long drain pipe allows for effortless water removal without getting wet, saving you time and effort. Simply open the external drain valve on the side, and the water will flow out smoothly. There is also an internal drain plug in the floor of the portable ice bath tub.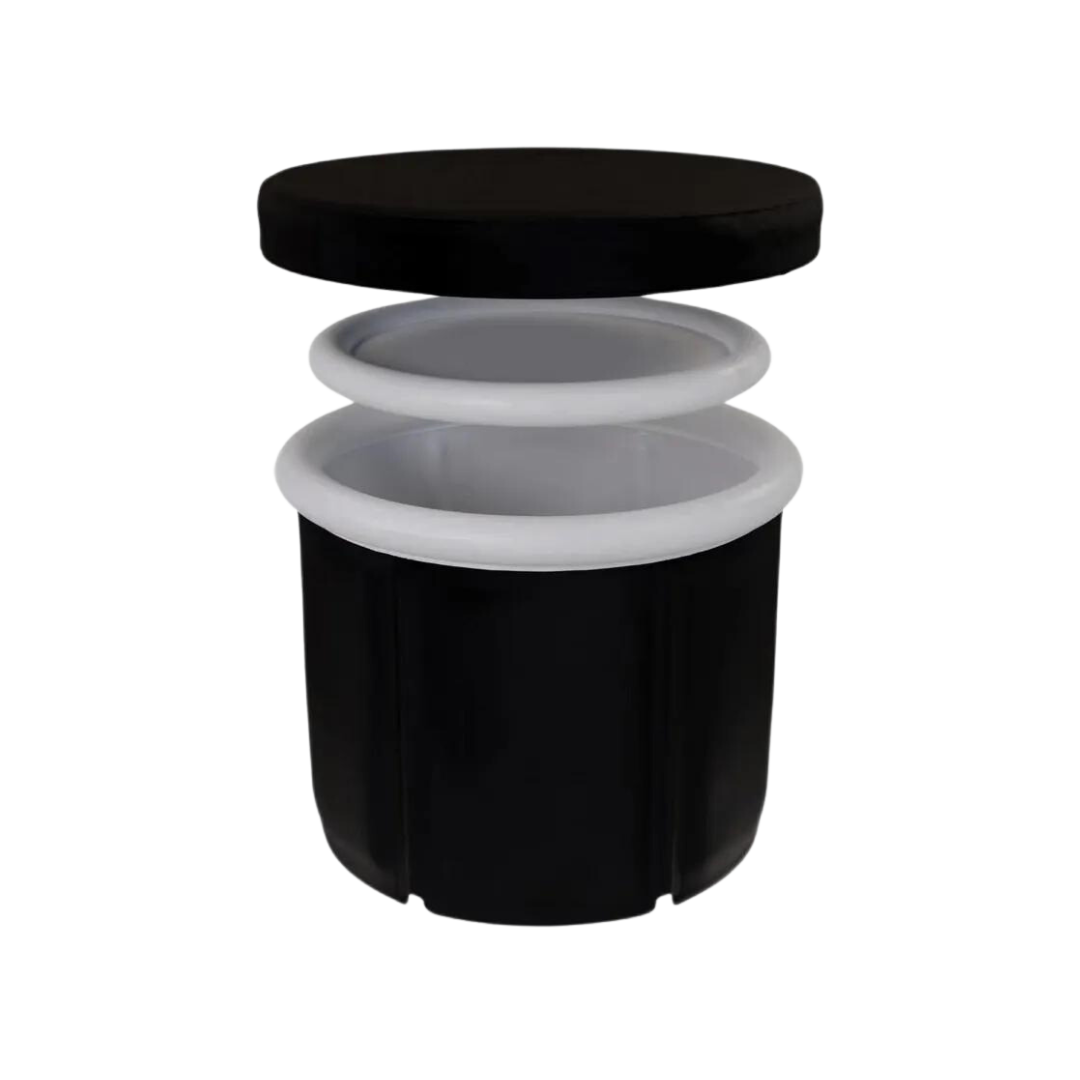 Protective Cover & Lid
The free thermal lid and cover that is included in your purchase offers additional benefits for your cold plunge sessions. It helps to keep your ice bath clean when it's not in use and serves as a convenient surface for sitting or placing items during your session.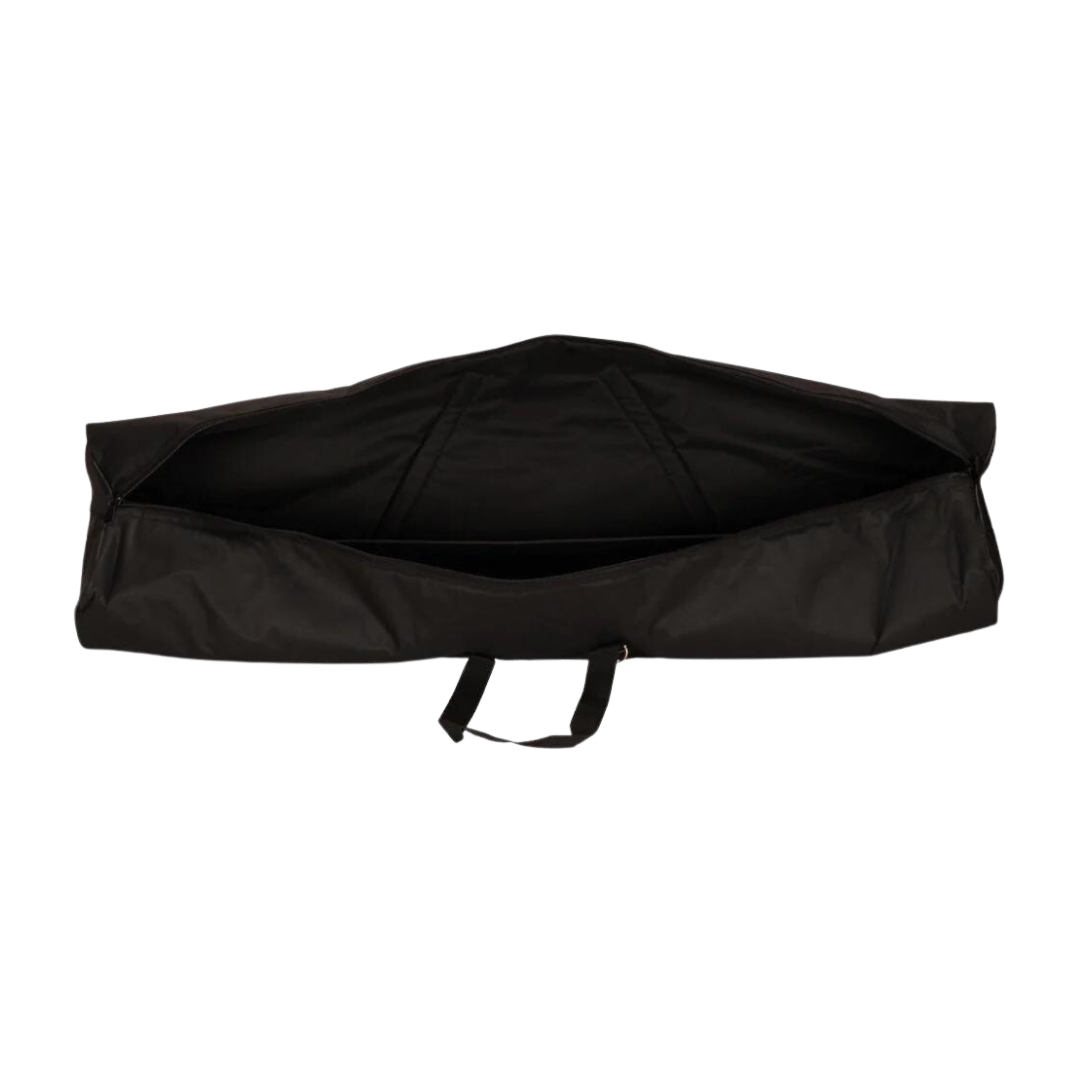 Portable and Compact
This Ice Bath is ingeniously designed to be portable and easy to transport. Its compact lightweight construction and carry bag allows you to enjoy the benefits of cold therapy wherever you go.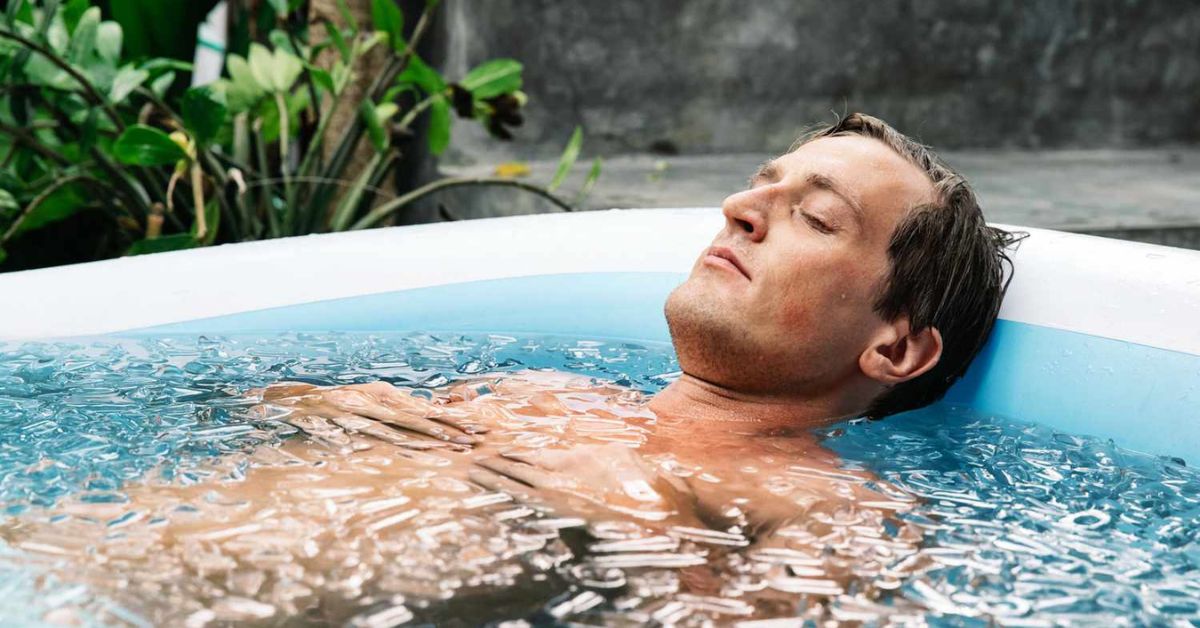 Looking for Your First Ice Bath?
Whether you are a seasoned athlete or new to cold therapy, this ice bath is the perfect choice. With its manageable size, superior quality, and user-friendly design, it offers an accessible and effective way to reap the benefits of cold therapy without overwhelming complexity.
FAQ
How do I set my portable ice bath up?

Step 1: Unpack
Step 2: Insert Legs
Step 3: Inflate
Step 4: Rinse
Step 5: Position on a Level Surface
Step 6: Fill With Cold Water
Step 7: Test Water Temperature


If you're not feeling the arctic tingle, toss in some ice to level up the chill factor. 

For more on taking an ice bath check out our guide on how to take an ice bath.
Can I use regular ice or ice packs?

You can use regular ice or ice packs, depending on your preferences.

Regular Ice: You can add ice from your refrigerator's ice maker or use ice bags from the store. Regular ice is readily available and cost-effective.

Ice Packs: Ice packs or frozen bottles of water maintain their frozen state for a longer duration than regular ice, which can be beneficial if you want extended cool temperatures without the hassle of adding more ice. 

When deciding whether to use regular ice or ice packs in your portable ice bath, consider the following:

Duration of Use: If you plan on shorter sessions, regular ice may suffice. For longer or multiple sessions, ice packs may be more convenient.

Convenience: Ice packs can be stored in the freezer and used immediately, whereas regular ice may need some preparation.

Ultimately, the choice depends on your specific needs. Many users find that a combination of both can provide versatility for different situations, allowing them to adapt their cooling experience as needed.
Do I need to use ice?

The temperature of an ice bath typically ranges between 10 to 15 degrees Celsius. Depending on your local climate you may find that your water is a desirable temperature without the use of ice.

During certain times of the year this is certainly the case for a lot areas in New Zealand.

Over time as you get used to cold water therapy you may desire a cooler water temperature and therefore use ice more often.

For more on taking an ice bath check out our guide on how to take an ice bath.
How do I clean my portable ice bath?

We recommend using a spray bottle mixture of one part white vinegar to one part water to wipe out the inside of your portable ice bath when cleaning.

Please don't use any corrosive detergents on your portable ice bath.
How can I keep the water cleaner for longer?

Wear swimwear
Shower before entering the water
Avoid introducing moisturisers, lotions, oils, or the like into the water
Add a spa sponge to the water to eliminate surface oils
Place the lid back on straight after each use to minimise dirt and particles entering the water
Add a Mineral Stick to the water to dispense silver and zinc ions, maintaining water quality to help reduce algae and bacteria levels.
Are there any specific health conditions or contraindications to using a portable ice bath?

Using a portable ice bath, like any cold therapy method, has both benefits and potential risks. It's important to be aware of specific health conditions or contraindications that may make using a portable ice bath inadvisable or require consultation with a healthcare professional.

Here are some health conditions and contraindications to consider:

Hypothermia: Individuals who are sensitive to cold temperatures or who have a history of hypothermia should use ice baths with caution. 

Raynaud's Disease: People with Raynaud's disease may experience extreme sensitivity to cold. They should consult a healthcare provider before using an ice bath.

Cardiovascular Conditions: Individuals with heart conditions, such as heart disease, hypertension (high blood pressure), or arrhythmias, should consult their healthcare provider before using an ice bath. Cold exposure can temporarily increase blood pressure and heart rate.

Respiratory Conditions: Those with respiratory conditions like asthma may find cold exposure uncomfortable and potentially trigger symptoms. 

Circulatory Issues: People with poor circulation or peripheral vascular disease may be more susceptible to cold-related injuries when using an ice bath.

Open Wounds or Infections: Avoid using an ice bath if you have considerable open wounds or skin infections, as cold water can slow down the healing process.

Neurological Conditions: Individuals with certain neurological conditions, such as neuropathy (characterised by weakness, numbness, and pain, often in the hands and feet), may have reduced sensitivity to temperature changes.

Pregnancy and Postpartum: Pregnant and breastfeeding women should seek guidance from their healthcare provider before using an ice bath, as extreme cold can affect blood flow.

Age: Children and the elderly may have a higher risk of adverse reactions to cold exposure, so caution is advised, and supervision is necessary.

Medications: Some medications can affect an individual's ability to regulate body temperature or respond to cold. If you're taking medication, consult your healthcare provider before using an ice bath.

It's crucial for individuals with any underlying medical conditions or concerns to consult with a healthcare professional before incorporating ice baths into their routine. Additionally, always follow safety guidelines and recommended exposure times when using a portable ice bath to minimise the risk of adverse effects.
Newbie to the ice bath 🥶
Firstly the quality of these ice baths are great, they have a great finish, easy to assemble and look the part too. The product arrived to the South Island very quickly. The experience is oddly enjoyable, I went for a run first then submerged for 4-5min in about 8degree water. Feeling great afterwards - can't wait to smash out a massive run and see how that feels afterwards.
Great purchase!
Great way to experience cold therapy at a good price. Top tip = freeze water in some soft drink bottles and add to the tub to cool down / minimise ice purchasing expenses!
Love our ice bath it is great part of our recovery after exercise. Customer service is brilliant thanks heaps
Hubby's in too
Brought for myself and surprisingly hubby's into it to. It's a race to see who is in first. Might have a get another at this rate. Highly recommend.
Unlock The Possibilities!
Don't miss out on this portable oasis of recovery and wellness. Immerse yourself in wellness, anytime, anywhere. Your path to holistic health starts here, with the Portable Ice Bath.